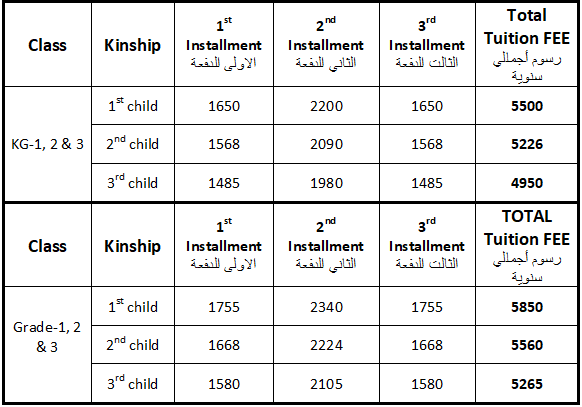 The following payment will also be payable, in addition to the above mentioned tuition fee
Fee on Admission only SR 1500/- (15% Discount for 1st and 25% for 2nd Sibling)
Books for KG Section SR 300/-
Books for Grade 1-3 SR 500/-
VAT @ 15% on total payment
A uniform will be provided by the School on admission only
Fee Policy
I. Fee Payment Rules
Presently the fee payment options are
Full Payment: At the start of the session
2 Advance Installments:

1st Installment in the month of September b. 2nd Installment in the month of February

3 Advance Installments:

1st Installment in September b. 2nd Installment in January c. 3rd Installment in April
NOTE: Once the fee is paid and classes are started, the fee will not be refunded. The tuition fee of the remaining months, if any will be refunded after the clearance from the school
II. Fine & Penalties
Payment can be made till 10th of the month without incurring any fine.
If fee is not paid by the 10th of the month, it will incur a fine of SR. 2/- per child per day.
If the fee remains unpaid for 2 months, the student will be expelled from school. If the school fee is paid after the student is expelled, SR. 500/- readmission fee will be charged.
This is a fixed policy, therefore, no further reminders will be sent and no discussion will be entered into.
The school has the right to take legal action against those parents who will be fee defaulter for more than 3 months
III. Refund/Clearance Procedure
To apply for certificates and result cards, clearance is required from the school. Clearance is subject to the return of school books and belongings and on full payment of outstanding dues.
Parents who wish to withdraw their children are required to inform minimum fifteen (15) days in advance. It will facilitate the timely receiving of SLC and refund if any.
If withdrawal notice is received after the 25th of a month, the next month fee will also be payable for the clearance
If the dues are not paid, the school will not issue SLC and any refund, if any, will be withheld.
School will not issue certificates and result cards in case of outstanding fee.
No Fee refund claim will be entertained after a year from the date of school leaving.
I, ___________________________________ Father/Mother of ___________________________________
agree to the above fee policy of the school.


Date: ___________________________ Signature: _____________________________